Framework Laptop 13 review: cracking modular PC gets all-round upgrade | Laptops
The fixable upgradeable premium Framework Laptop 13 has been improved all round for 2023 is packed with small changes that are backwards compatible with older models, making a great laptop even better.
The original Framework broke new ground last year as a laptop designed to be taken apart upgraded, with a modular selection of ports, too. Crucially, the company followed through on promises to provide parts upgrades for existing machines – first with 12th-gen Intel chips now new 13th-gen Intel processors, with AMD Ryzen 7040 series chip options coming later this year.
But for those who don't already have a Framework 13 sitting on their desks, these improved parts have been rolled into new pre-built options, with Windows 11 starting at £1,049 ($1,049).
Physically, little has changed, so that the new parts are compatible with older machines. The laptop is thin, light made of recycled aluminium. It looks feels premium.
The screen is the same crisp bright panel as before, but now has a matt rather than gloss coating, which significantly reduces glare reflections. The new, more robust-feeling screen hinges still open to a full 180 degrees, which is very handy for using the laptop in a stand.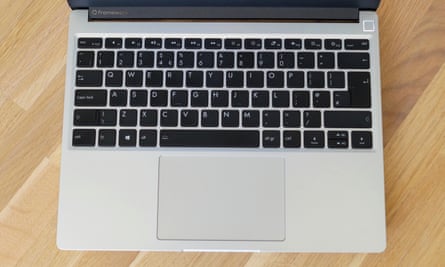 The laptop has new, louder stereo speakers, which are still fairly tinny compared with the best, but fine for watching YouTube or taking meetings. A good 1080p webcam is at the top of the screen, with a physical switch for privacy. If you don't like the black screen bezel, you can swap it for various colours, too.
Specifications
Screen: 13.5in LCD 2256 x 1504 (60Hz; 201 PPI)

Processor: Intel Core i5 or i7 (13th generation)

RAM: 8, 16, 32 or 64GB

Storage: 256, 512GB, 1, 2 or 4TB

Operating system: Windows 11 Home or Pro

Camera: 1080p front-facing

Connectivity: wifi 6E, Bluetooth 5.3, headphones, fingerprint scanner + choice of 4 ports: USB-C (USB4/Thunderbolt 4), USB-A, HDMI, DisplayPort, ethernet, microSD

Dimensions: 296.6 x 229.0 x 15.9mm

Weight: 1.3kg
Ports power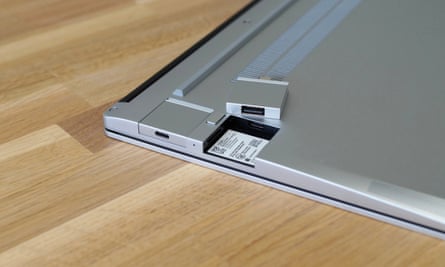 The Laptop 13's modular ports are still a great idea. Choose between any combination of USB-4/Thunderbolt 4, USB-A, HDMI, DisplayPort, ethernet, microSD expandable storage drives, swap them as you need. With most costing less than £20 each, they are cheap enough to keep a collection for different tasks.
The 13th-gen Intel Core i7, as tested in the "performance" version of the laptop with 16GB of RAM, was all round an improvement on the 11th-gen chips tested last year.
It was certainly fast enough to handle any general computing task, keeping up with rivals for power. It won't handle high-end gaming, but managed a bit of Comm& Conquer Remastered various other older or lighter titles just fine.
It also ran a lot cooler than the previous version, with the fans generally staying silent while browsing general computing, which was most welcome.
Framework also released a higher-capacity battery that stores 11% more energy in the same physical size ships in all but the cheapest models. It still won't win any longevity awards, but the laptop managed a good eight to nine hours of productivity work in Chrome, Windows Mail, Evernote various other light apps. That is at least an hour longer than the previous version.
Sustainability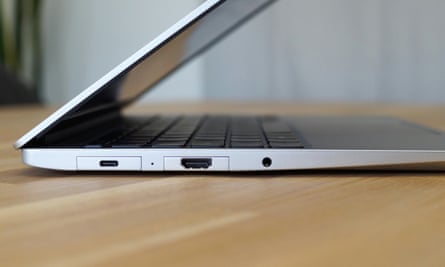 Framework rates the battery to maintain at least 80% of its original capacity for at least 1,000 full charge cycles. It can easily be replaced along with all the rest of the components, including the RAM SSD. The first-gen laptop was awarded 10 out of 10 for repairability the 2023 model praised by the specialists iFixit for its ease of upgrade.
Framework sells replacement parts upgrades through its marketplace, but also supports third-party parts. The laptop contains recycled aluminium plastic in most components.
Price
The Framework Laptop 13 is available as a pre-built, ready-to-use machine or in a DIY edition.
Pre-built "base" machines with Windows 11, an Intel Core i5-1340P, 8GB of RAM 256GB of storage start at £1,049 ($1,049). The performance model as tested with an i7-1360P costs £1,469 ($1,469) with 16GB of RAM 512GB of storage. DIY editions start at £849.
For comparison, the Dell XPS 13 Plus starts at £1,348.99, the Microsoft Surface Laptop 5 starts at £999 the Apple MacBook Air M2 starts at £1,249
Verdict
Framework has delivered on its promise of upgrades for its existing machines which, when put together, create a more refined machine in the Laptop 13.
The 13th-gen Intel chips run cooler, helping the laptop to stay quieter offering plenty of performance. But the other refinements to the hinges, speakers, battery screen improve the experience just as much. The swappable ports remain an excellent idea.
The battery life is still far short of the best in the business, but is now long enough for a work day. A touchscreen would be nice but isn't essential. And you can certainly get better-looking mainstream rivals.
But the 2023 Framework Laptop 13 is an excellent, adaptable upgradable marvel suitable for more than just PC enthusiasts.
Pros: swappable ports, repairable upgradeable design, great performance, decent battery life, contains recycled aluminium plastic, well-made, good fingerprint scanner, good screen, great webcam, good keyboard trackpad.

Cons: no touchscreen, lid a little flimsier than the rest of the body, short availability, with wait time for purchasing new machines.